2022-05-29 Kilkeel Golf Club teams success.
Last Weekend saw more teams in action in the Inter-Club tournaments.
Sam Rutherford Cup
The Sam Rutherford team played the second leg of their match against Mayobridge on Saturday afternoon. Taking a 10 hole lead into the fixture the Kilkeel lads got off to a quick start with Conall Kerr and Davy English winning two up.
Young Louis Poland playing with last year's player of the year (Bobby Watts) were out to avenge last week's result and finished much later but with the right result of 1 up.
James McCulla and Stevie McDowell (playing in his first club representative match) romped home 4 up. Charlie Houston and Ryan Donnelly lost 1 down on the 18th but the match was well won 16 holes up.
Next round is against the winner between Edenmore and Mourne.
Rossmore Cup
Shane Lowey's Rossmore Cup team travelled to Silverwood, Craigavon for the return leg leading by a single hole after last week's first instalment. They knew that this was going to be a tight match so the Captain made a few changes in running order with Brian McKay and Caolan Campbell leading the team out. It was nip and tuck for the first few holes but a couple stray shots from both players ending up in waist-high rough resulted in falling 3 behind. To their credit they never gave up and got it back to one down after 11. However the home pair dug deep and opened up 3 hole lead holding on until the 16th to win 3&2.
Next up was Eric Nicholson and Ryan Trainor and on this occasion the 2 lads openly admitted they had a 'bad day at the office!' The conditions were difficult with it being warm and very windy and if you missed the fairway the rough was horrible, however the 2 lads battled really hard but also came up on wrong side of 3&2 scoreline. Credit must go to the first two pairs who gained valuable wins last week in Kilkeel
Third pair out was Brendan Scullion and Harry Black. After last week's defeat the 2 men were focussed on getting revenge and a solid start by both players saw them 3 up after 6. Once again Silverwood got it back to 1 down at the turn but that recovery only kick-started Harry and Brendan again and the 2 men pushed ahead to win 4&3. (The pair were only 3 over par with their better ball scoring – the captain commented that it was some shooting for 2 young fellas!!)
Last out again this week was John Davenport and Shane Lowey who were up against the same pair that beat them 2&1 last week. It was score for score for the first 2 holes then Kilkeel went 1 down after the third but hit straight back at 4. Hole 5 was halved but the 6th was lost to a 20ft putt. However 8 and 9 were won to make the turn 1 up. John had great par at 10 to go 2 up but the home pairing fought back to win 12 and 13 with par and birdie to be all square again. Shane and John hit back with a great win on 14. The difficult 15th was halved with bogeys and then on 16 the Kilkeel players both found the middle of the fairway and went on to win the hole to go 2 up. Knowing that a half on 17th would seal a victory for them and for the team, John (cool as a cucumber!) struck a 4 footer for a half to give them a 2&1 victory. Both teams shook hands with the Silverwood Captain declaring a one hole win for Kilkeel.
Well done to the whole team who now progress to the next stage of the competition.
Golf Ireland Junior Cup
The Golf Ireland Junior Cup team played their match against Holywood with 3 players away and two at home. First out at Holywood was Richard Doran who gave a good account of himself following his competition victory midweek, but came up against an accomplished golfer and ended up on the wrong side of a 5&4 defeat. James 'The Postman' McCulla did the business again to crown a great weekend's golf for him with a 3&2 win for a great point away from home. Mark Trainor was engaged in a very tight game until a massive drive down the 17th hole broke the resolve of his opponent for him to run out as a 2&1 winner.
At home the two Donnelly brothers were up against two young opponents and Ryan was first in with a point when he had a great up and down on 15 to win 3&2 and secure the victory for Kilkeel.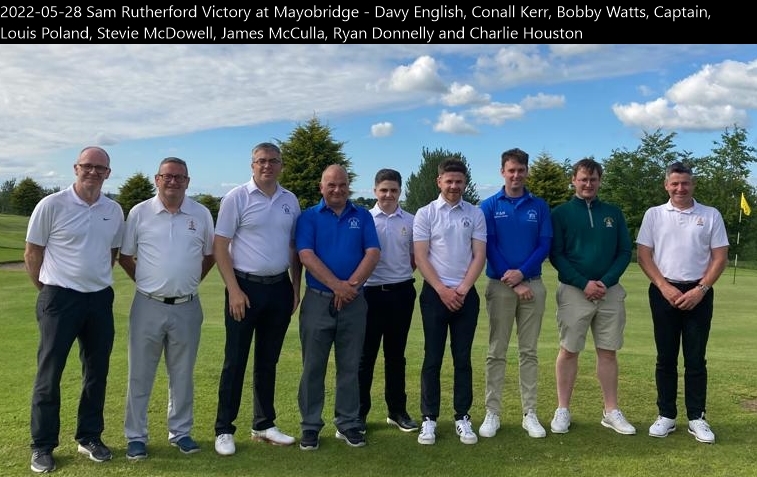 _____________________________________________________