A Brief History of Kilkeel Golf Club
An ideal piece of ground for a 9-hole course was on hand at Cranfield on land adjoining the Carlingford Lough seashore. It belonged to the Earl of Kilmorey and Mr Harry Nicholson both of whom favoured the idea of a golf course.
In 1924 a meeting was held of all interested parties and a decision was made to go ahead with the course and the first trustees appointed were Pat Carey Headmaster of Mourne Grange School, Harry Nicholson, a Mr Prentice and a Mr Gibbons. The task of designing the 9 holes was entrusted to Lord Justice Babington who had a Summer residence at Cranfield and was a member of the Golfing Union of Ireland.
The first Clubhouse was the little cottage opposite Harry Nicholson's gate and later a wooden-framed building was erected at the 1st tee. The builder was Major W.J. Hanna and it was later bought by the British Legion for erection in the hospital grounds. The cottage of one of the first groundsmen Pat Rogers overlooked the 7th green and marked the boundary of the course. Other groundsmen were James Morgan, Sydney Graham and Harvey Quinn who worked on the course at different times up to 1940. Other founder members were Dick Nicholson, Edmund Hanna, Bob Linton, J.J. Small, H.H. Stevenson (Kilmorey Hotel), J.F. Morgan, Bobbie Nicholson, Rev. Belton, T.H. Ferguson, Pierson Ferguson, T McGonigle and John Boyd McKeown.
Way back in 1922 some townspeople in Kilkeel looked enviously at Warrenpoint and Greenore and their 18-hole golf courses dating back to their foundation in the 1890's. Also some of the locals made the journey to both Clubs and got the golf bug!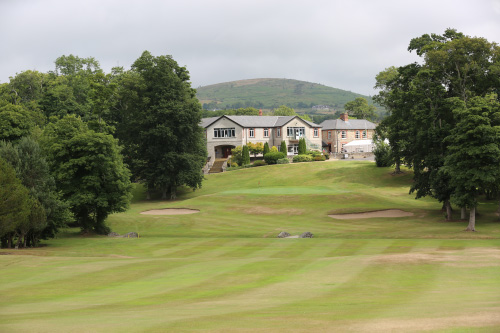 The Course is situated at the foot of the Mourne Mountains and can be found 2 miles from Kilkeel town centre on the main Newry Road. Only 12 miles from Royal County Down, the Club has played host to the R&A and Senior European Tour having been used as a qualifying Course for the British Amateur and Senior British Opens, also hosting PGA events. Many visitors have commented on the quality of the course, the challenge afforded to golfers of all standards and the friendly atmosphere around the club. Should the golf prove 'over-challenging' (as golf sometimes does!) then the spectacular scenery of the Mourne mountains which can be viewed from every tee will provide a memorable and enjoyable experience. Glimpses of the beautiful and historic Carlingford Lough can also be obtained through the many mature trees which separate the fairways.