Play & Stay
With spectacular and varied panoramas, the Mountains of Mourne are famous as a boundless natural playground within Northern Ireland's great outdoors. Their clean air and beauty entices adventurers and relaxation seekers alike from around the world. Scenes from the blockbuster TV programme 'Game of Thrones' were filmed nearby on location and many count the South Down region as one of the most breathtaking and striking anywhere.
See website 'Visit the Mournes' for details of venues and events
See 'Discover Northern Ireland website' for top 10 things to do in the Mournes.
Plan a trip on the Carlingford Scenic Ferry sponsors of competitions including the Carlingford Lough Classic
Carlingford Lough Ferry
Located midway between Dublin and Belfast, Carlingford Lough Car Ferry connects the dramatic Cooley Peninsula at the beginning of Ireland's Ancient East, in the Republic of Ireland, with the majestic Mountains of Mourne, the gateway to Northern Ireland. Surrounded by epic scenery and shrouded in mystery, with a rich tapestry of legend and folklore hidden in its hills, this largely undiscovered region is an area of outstanding natural beauty. Discover the myths and legends of the iconic Carlingford Lough and explore the scenic route between Dublin and Belfast with a journey onboard Carlingford Lough Ferry.
Board the ferry at Greenore, Co. Louth and begin your 20 minute sailing to Greencastle, Co. Down, across one of Ireland's most scenic & legendary Loughs. Experience unparalleled views of the majestic Mourne Mountains sweeping down to Carlingford Lough and the dramatic Cooley Peninsula, and enjoy unique 360-degree panoramic views from the visitor viewing deck.
Visit www.carlingfordferry.com to purchase tickets.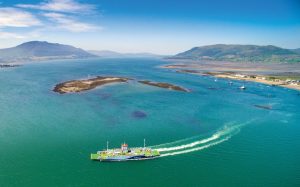 **(Kilkeel Golf Club members will receive 10% discount on fares upon production of their membership card – code applies – see Members area of website for code)
Carlingford Lough Cruises
Carlingford Lough is an area of outstanding natural beauty and the backdrop for a unique series of breath taking cruises on the Lough. Choose from a wide range of cruises that include Sunset Cruises, Lough & Lighthouse Cruses, or a series of Summer Gig Cruises or 'Meet the Maker' food & drink cruise experiences, which allow you the opportunity to savour the tastes of a wide range of local produce and meet the locals who produce it. These unique evening passenger cruises are the perfect way to explore Carlingford Lough and enjoy panoramic views of the majestic mountains that surround it. Experience an ornithological wonderland of birds and wildlife including, sea otters, dolphins and one of the largest seal colony's on Ireland's Ancient East.
These two hour evening cruises take place right throughout the summer months, and passengers can board at the Carlingford Lough Ferry terminals at Greencastle, Co. Down, in Northern Ireland or Greenore, Co. Louth in the Republic of Ireland.
While onboard enjoy live music and dancing onboard and a guided audio tour as your cruise. Onboard café, allocated seating and Toilet facilities are also available.
For more information on Carlingford Lough Ferry & Cruises visit www.carlingfordferry.com/Cruises
__________________________________________________________________________________
If you take the opportunity to play our championship course at Kilkeel, why not contact one of our partners to avail of their special offers to 'PLAY & STAY' and enjoy the spectacular scenery, rich history or gastronomic delights which are readily available.
Local places to stay include
The Green Holiday Cottages
Hillyard House Hotel Castlewellan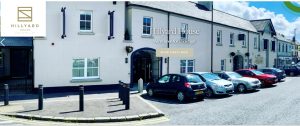 Local hotel – Kilmorey Arms in Kilkeel.