Play & Stay
With spectacular and varied panoramas, the Mountains of Mourne are famous as a boundless natural playground within Northern Ireland's great outdoors. Their clean air and beauty entices adventurers and relaxation seekers alike from around the world. Scenes from the blockbuster TV programme 'Game of Thrones' were filmed nearby on location and many count the South Down region as one of the most breathtaking and striking anywhere.
See website 'Visit the Mournes' for details of venues and events
See 'Discover Northern Ireland website' for top 10 things to do in the Mournes.
Plan a trip on the Carlingford Scenic Ferry sponsors of competitions including the Carlingford Lough Classic

__________________________________________________________________________________
If you take the opportunity to play our championship course at Kilkeel, why not contact one of our partners to avail of their special offers to 'PLAY & STAY' and enjoy the spectacular scenery, rich history or gastronomic delights which are readily available.
Local places to stay include
The Green Holiday Cottages
Hillyard House Hotel Castlewellan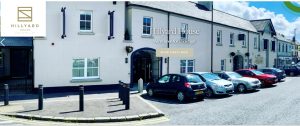 Local hotel – Kilmorey Arms in Kilkeel.