Saturday 11th June – Sam Rutherford v Edenmore
2022-06-11 Sam Rutherford – Frank's Sam Rutherford team came home from Edenmore with an 11 point lead to take into the home leg next week.
Louis Poland and Charlie Houston had an 8 hole up win, Bobby Watts and Joe McKnight lost by 2, Paschal Morgan and Ryan Donnelly won 7up and Conall Kerr and David English lost by 2. Some great golf played and a healthy lead to take into next week's home fixture.
Missing from Photo is Golfer of the year Bobby Watts.
2022-06-12 Sunday – Irish Mixed Foursomes match v Helen's Bay.
Kilkeel played Helen's Bay in the Irish Mixed Foursomes and as Kilkeel were classed as the 'away' team they played 3 matches away and 2 at home.
The away matches were led out by Robin & Adrianne McCullough. They fell behind early on and struggled to get back on even terms, eventually succumbing to a 3&2 defeat.
The second match paired Gareth Whitehead & Grainne Killen. They gelled together well and established an early lead. Solid golf enabled them to maintain the advantage and saw out the match as 5&3 victors.
Third out was Lee Annett and Lorna Orr. The home pair played some steady golf and Lorna and Lee never got a chance to get their noses in front. Despite best efforts they eventually fell to a 4&3 defeat.
With a point gained from the away matches the home teams needed to win both games to progress to the next round.
First out was our Club Captain Robert Hall partnered with Margaret Graydon. The pair fell behind losing the first 2 holes however they fought back and were level at the turn. Most of the back nine holes were halved however Margaret and Robert won the 14thand 16th to turn their match around and saw out the victory 2&1.
The last and pivotal match saw big hitting Rio Doran paired with The Lady Captain Linda Moorhead. The home team established an early advantage holding a 2 up lead for most of the match. However they lost momentum losing both the 16th & 17th which resulted in an 'all square' finish meaning playoff extra holes. Unfortunately Rio's tee shot went too long into the heavy rough at the far side of the first fairway and so the Kilkeel pair were always playing catchup for the hole. The Helen's Bay pair played out the hole safely and so the match was lost 3-2.
It was a close run affair with the Kilkeel team giving of their best, but on this occasion they just came up short.
A big thank you to Team Captain Fiona Campbell and assisted by Adrianne McCullough for their efforts.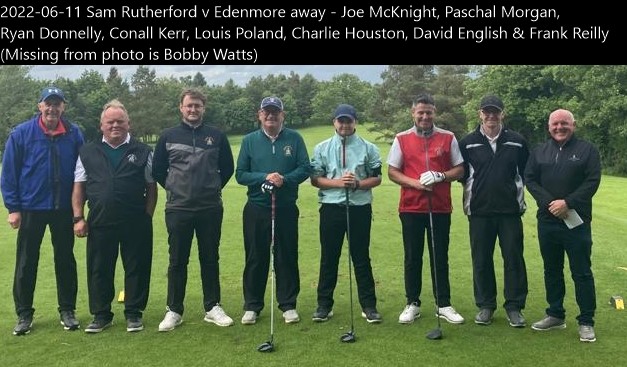 2022-06-12 Kilkeel v Senior Cowdy vs Lurgan at home
First match out was Leigh Campbell vs Lurgan's number 1 playing off a handicap of plus 1. This gave Leigh 3 shots and resulted in a close front 9 with Leigh losing the 9th hole to give the Lurgan man the first point out of 4. However on the back 9 with still 3 points up for grabs Leigh turned on the style to come back from 1 down after 9 to win the match 2/1 and claim the 3 points for Kilkeel.
Number 2 out for Kilkeel was Aidan Donnelly who came up against a strong competitor in Lurgan's Number 2. Aidan ended up in a 5 and 4 defeat and 4 points went to Lurgan.
Third out for Kilkeel was the big hitting all action Glenn Whyte and led the match throughout the front 9 claiming another point for Kilkeel. With points still to play for on the back 9 Glenn narrowly lost the match 1 down to a brilliant par on the last from the Lurgan man which gave him 3 points out of 4.
Number 4 out for Kilkeel was James McCulla who is normally very reliable in matchplay golf. However he came up against an equally savvy player for this encounter and it came down to the battle of the putters. The Lurgan man just holed more putts at crucial stages and edged the match 4/2 and 4 points.
Fifth out for Kilkeel was anchor man Mark Trainor.  Mark was 4 down through 6 and eventually lost the front 9 point. But on the back 9 Mark dug deep and played some great golf to come back and lead the match 1up after 17. It was nip and tuck down the 18th only for the visiting player to make a good par 5 and win the hole and half the match resulting  in a hard fought 2 points each.
Kilkeel have it all to do in the away fixture with score at the halfway stage 14-6 in favour of the Lurgan team. There were close matches and the Kilkeel boys were disappointed with the result, however it can all change in Lurgan in 2 weeks time and no doubt they will give of their best to try and overturn the deficit.