Flag competition for competitors without an official handicap
Welcome pack & refreshments provided for all competitors
First tee announcements for all competitors
Prize categories to suit all ages and levels of ability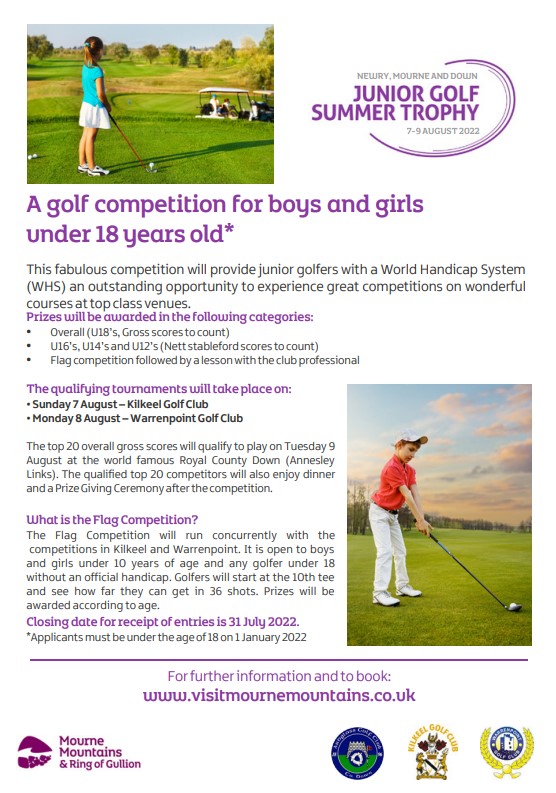 A Golf Competition for Boys & Girls under 18
This competition provides junior golfers with an amazing opportunity to experience great competitions at top class venues
 Overall – (U18's,Gross scores to count)
 U16's,U14's andU12's – (Nett stableford scores to count)
 Flag competition followed by a lesson with the club professional
Qualifying Competitions
• Sunday 7 August –Kilkeel Golf Club
• Monday 8 August –Warrenpoint Golf Club
What is the Flag competition?
The Flag Competition will run concurrently with the competitions in Kilkeel and Warrenpoint. It is open to boys and girls under 10 years of age and any golfer under 18 without an official handicap. Golfers will start at the 10th tee and see how far they can get in 36 shots. Prizes will be awarded according to age.
Closing date or entries is 31 July 2022
Applicants must be under the age of 18 on 1 January 2022
Qualifiers
The top 20 overall gross scores will qualify to play on Tuesday 9 August at the world famous Royal County Down (Annesley Links). The qualified top 20 competitors will also enjoy dinner and a PrizeGiving Ceremony after the competition.