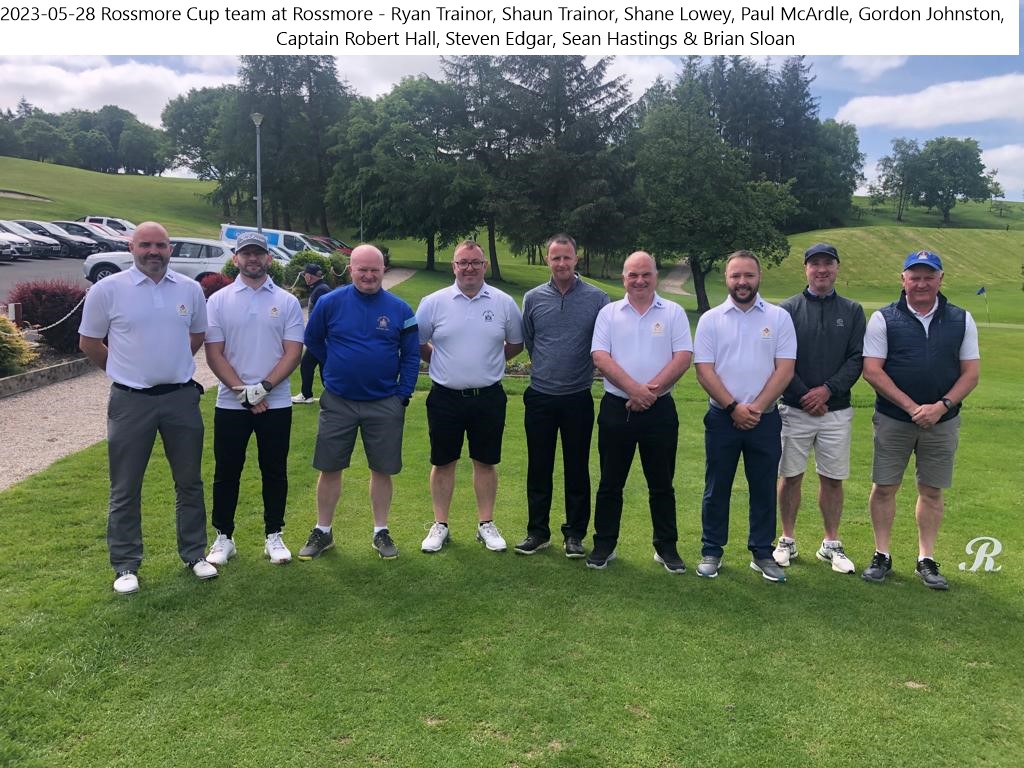 Rossmore Cup team at Rossmore (Co.Monaghan) First leg.
Report from Team Captain – Robert Hall
Kilkeel's Rossmore Team  travelled to Monaghan to play defending Champions Rossmore in the first leg.
The team was led out by Shane Lowey & Paul McArdle. They came up against a formidable Rossmore pairing and were never able to gain a foothold in the match. After 5 holes they were 3 down, at the turn 6 down and eventually fell to a 7&6 defeat.
Second up were the Trainor Brothers, Ryan & Shaun. In a high quality affair the brothers led after 5 holes by 1, they increased that to 2 holes by the turn, that included an eagle at the 8th from Ryan (Shaun also birdied the hole). After 12 holes they increased their lead to 3 and eventually closed the match 3&2 winners. A vital point secured.
The 3rd match paired Gordon Johnston & Steven Edgar. The Kilkeel pairing parred the first 4 holes but still seen them 1 down to a birdie. After 9 holes the Rossmore Team had increased their lead to 5 holes. The boys battled in the back nine however succumbed to a 4&3 defeat.
Brian Sloan & Sean Hastings were last out for Kilkeel. Again the Rossmore pairing got off to a good start going 2 up before Kilkeel pulled one back by the 5th. The score remained the same by the turn however the Kilkeel pairing managed to square the match by the 12th. Holes continued to change hands the whole way in with Kilkeel going 1 up on the 17th. An unlucky 360 degree lip out on the last from Sean denied the Kilkeel pairing the win and the match finished all square.
A 2 ½ to 1 ½ defeat away from home is a good result away from home against a very good Rossmore Team and gives Kilkeel a chance to progress into the second round with home advantage still to come.